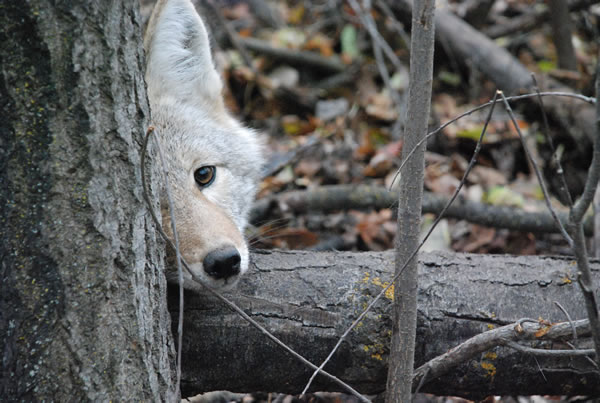 How the project began
The Edmonton Urban Coyote Project began in Summer 2008 when Colleen Cassady St. Clair, a conservation behaviourist in the Department of Biological Sciences, approached a City official, Kevin Moore, about the possibility of studying coyotes in Edmonton. Kevin described this interest to John Helder, Principal of Horticulture for the City, who gathered a team of City employees and associates with interest and expertise in coyotes. Many of these people are now advisors to, or collaborators on, the project.
In the summer of 2009, Adam Cembrowski began a study of coyote diet with help from Ian Warrington and the 2009 WISEST students. That fall, Maureen Murray began an M.Sc. on the project with an emphasis on coyote movement and habitat selection. She deployed GPS collars provided by Dave Latham and Stan Boutin with trapping support from Bill Abercrombie of Animal Damage Control. In the ensuing months, Maureen and the coyotes attracted dozens of volunteers to the project, which continues to grow. In the summer of 2010, Tobias Tan created our website with content suppport from Adam, Maureen and NSERC UGRA student, Forrest Gainer. Together with the 2010 WISEST students, they are steadily revealing the secret lives of Edmonton's urban coyotes.
Supervisor and Principle Investigator
Graduate Students
Maureen Murray (Masters)
2011 Undergraduate Staff
Steve Pasichnuk, Katrina Burrows
2010 Undergraduate Staff
Tobias Tan, Adam Cembrowski, Forrest Gainer
2010 WISEST Students
Rachel Touchie, Arezoo Ahmadzadeh
2009 Undergraduate Staff
Adam Cembrowski, Ian Warrington
2009 WISEST Students
Esther Wong, Lina Zhang, Hayley Johnson
Volunteers
Fauve Blanchard, Katrina Burows, James Campbell, Carla Edgington, Adam Hope, Martin Lankau, Caitlin Mader, Steve Pasichnuk, Marika Vanderpol, Mary Zhou, Josephine Wong
Contact us
Feel free to email us your questions or concerns regarding the Edmonton Urban Coyote Project at coyotes@ualberta.ca